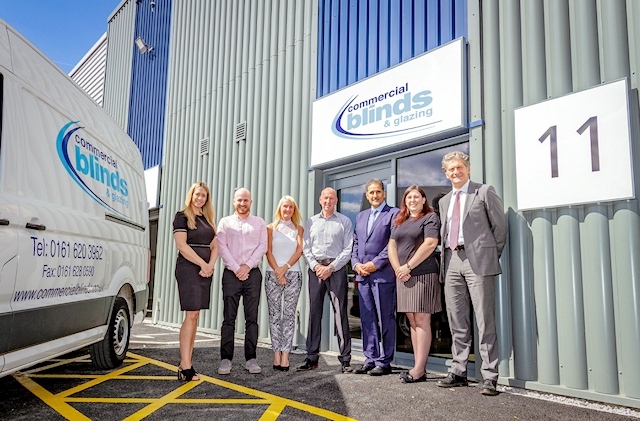 Kingsway Logic welcomes Commercial Blinds and Glazing as first tenant


Kingsway Business Park has confirmed Commercial Blinds and Glazing as the first tenant at Logic, an exciting new development of 11 self-contained units ranging in size from 3,000 to 15,500 sq ft.
Commercial Blinds and Glazing is one of the UK's leading manufacturers and suppliers of high-quality blinds and glazing solutions for business.
The company, which has been trading for over 30 years, is relocating from its current Oldham location to Unit 11 at Logic, citing the extra space available at Logic and Kingsway's excellent location as key reasons for the move.
Mike Challen, Managing Director at Commercial Blinds and Glazing, said: "We are a growing business and we felt it was the right time to move into modern, self-contained premises with more space for our expanding team.
"The other major factor was location.
"We operate nationally and need to continually move people, equipment and products around the UK, so the ease of access to the motorway network was a very important consideration. We also wanted to be part of such a prestigious development."
Logic is the latest development at Kingsway, one of the UK's best performing business parks, with excellent transport links, easy access to a large, skilled and cost-effective labour pool, and dedicated business support from Rochdale Development Agency (RDA).
Councillor John Blundell of Rochdale Borough Council, who is also a Member of the RDA Board, said: "It's great news that such a well-established and successful company has chosen Logic as its new headquarters, and further evidence of Kingsway's appeal as a place for business. We look forward to welcoming more tenants to Logic in the near future."
RDA Chief Executive John Searle, said: "We're delighted to welcome Commercial Blinds and Glazing to Logic and Kingsway.
"RDA will of course offer the company any support that it needs, from help with recruitment and training to advice on marketing and business development. We offer a one-stop shop for business support and all businesses in the borough can tap into our expertise."
Kingsway Business Park has been developed through a joint venture partnership between Wilson Bowden Developments, Homes England, Rochdale Borough Council and Rochdale Development Agency.
Go Back