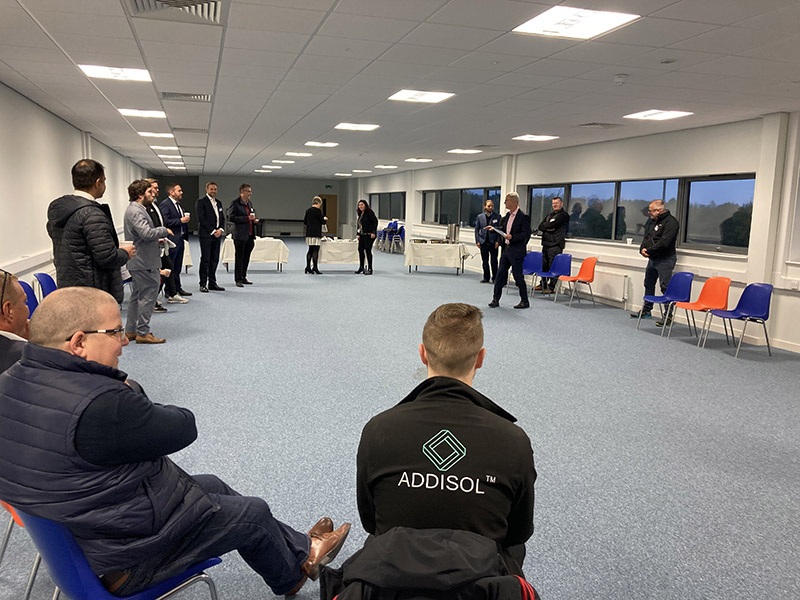 Networking group launched at Kingsway Business Park

Kingsway is now the largest business park in Rochdale, home to over 20 companies, with the potential to deliver around 5.5m sq ft of employment space.
The first quarterly meeting took place at Cleland McIver's new unit - K75 - a 75,000 sq ft detached industrial unit, which the textiles manufacturer has agreed a 10-year lease on.
More than 30 people attended the early morning meeting with companies represented including Takeuchi Manufacturing, Commercial Blinds & Glazing, Dachser, KP Industries, WCCTV, Nobilia GB, RMO, JD Sports, Amazon, JLL and Addisol.
Mr Rumbelow gave an upbeat message to the audience and said the purpose of the new networking group was so that Kingsway Business Park's occupants could get to know each other better.
He said: "The Rochdale Development Agency has worked on the development of Kingsway Business Park since the early 2000's and looked after its first tenant Vindon Scientific (now Source Bio Science) in 2008. The park has come a long way since then.
"Rochdale is really coming into its own, last year despite the pandemic, some incredible projects were completed including Rochdale Riverside in the town centre which is almost at full capacity.
"Across the borough there were 51 successful investment projects which created 500 jobs and safeguarded 274 jobs more.
"Rochdale will be home to AMPI, the Advanced Machinery and Productivity Institute, after £22.6m in funding was secured for a five-year innovation initiative.
"As well as promoting the adoption of digital solutions across the machinery sector, AMPI will focus on integrating automated and autonomous robotic systems and the development of new machinery."
Delegates were given an update on the developments taking place on Kingsway from Henry Henson, commercial development manager at Wilson Bowden.
They include a multi-million pound scheme to build four units on the 8.67 acre site between Sir Isaac Newton Way and Lower Lane – known as Urban Park or Plot G. Wilson Bowden Developments have started groundworks on the site with the units, which vary in size from 21,570 sq ft to 39,740 sq ft, being bought speculatively by property investment company Urban Logistics REIT.
Mr Henson said: "Kingsway Business Park is an established location with first class connectivity. These units will be a short distance from the M62 and we expect a lot of interest, especially from across the logistics sector."
The scheme is expected to be finished by September 2022.
Wilson Bowden Developments is part of the Kingsway Partnership, which also includes the RDA, Rochdale Borough Council and Homes England.
Go Back