Photographer Dan gives Kingsway the 360 treatment

Photographer Dan Root is used to travelling the globe taking photos of some of the world's most exotic locations but his latest assignment has been a lot closer to his Rochdale home.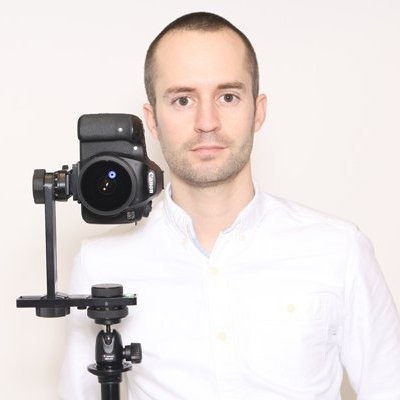 The 37-year-old, is a multi award-winning photographer for Google Street View and creates fully immersive 360 virtual tours of all types of business such as hotels, restaurant or showrooms, built with Google Maps technology.

While Dan has been grounded during the Covid pandemic he's used his skills in drone photography to create a virtual 360 degree tour of Kingsway Business Park in Rochdale.

He was commissioned by the Rochdale Development Agency and the interactive technology allows visitors to identity available plots of land and find out which other businesses are on the park already.

Dan, who lives in Middleton, said: "Normally I'm out the country for 200 days of the year but I'm still a Rochdale lad at heart and the virtual 360 tours of Kingsway Business Park really bring it to life.

"It's a really easy way for a potential investor from anywhere in the world to get a bird's eye view of Kingsway and identify potential opportunities."

Dan had been a hobby photographer before a lucky break meant he could turn it into a full-time career.
"Most people know about Google Maps or Google Street View but you can also promote businesses like hotels through the platform.

"I remember in 2014 I was asked to visit 36 hotels in 49 days in Mauritius, Maldives, Oman and UAE and it went from there. I've now photographed 300 hotels around the world.

"I use specialist photography equipment and take 20 photographs to create a single 360 degree image.

"I do the photography and post-production. I then upload them and connect into a real world experience that constellation to Google Maps to help businesses increase their exposure. We've worked with venues that have been explored by literally millions of people on Google Maps."

Explaining how they work he said: "The 360 degree virtual tour of Kingsway Business Park is made up of a series of aerial 360 photos created from 24 different images taken using a drone."

"If you log onto the website you can hover the cursor over a building and it will identity the occupier and if you click on it you can find out more about the business.

"If you want to see which plots of land are available and the size you simply hover the cursor over it, you can then click through to the RDA's contact form if you wish to submit an enquiry regarding that unit or plot of land.
"You can navigate around the business park simply by clicking on the navigational icons."

Dan said the interactive virtual tours bring fields and buildings to life. "How do you sell a field?" he asked. "If you can show people the position of the space relative to other businesses, local amenities and its transport links it will hopefully attract more interest. It's a really beautiful business park and I think it needs to be seen to be fully appreciated.

"You don't need to sell the benefits of Rochdale to me because I'm from the area but the virtual tours sell Rochdale and the Kingsway Business Park to the rest of the world."

To explore the immersive Kingsway Business Park experience please click here
Go Back