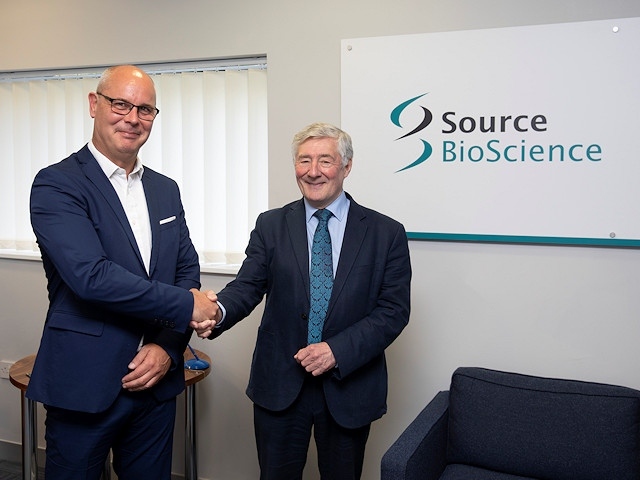 Source BioScience announces investment in thriving Rochdale facility

Advanced laboratory services and products company Source BioScience (SBS) welcomed Rochdale MP Tony Lloyd to its Kingsway facility recently and announced ambitious plans for the site.
SBS commercial director Russell Wheatcroft said: "We have a three-year plan to develop the Rochdale site. We're looking at the infrastructure first and foremost and are investing £500,000 back into the building. We have new air conditioning, new equipment coming in, and more staff coming through – everything from apprentices to senior management."
Russell announced that the business had recently won a significant contract with a client in the North West that will utilise laboratory facilities at the Kingsway site.
In the short-term it will allow the company to employ more analytical chemists in Rochdale, with the potential to triple both the project's work and workforce in the near future.
SBS forerunner Vindon Scientific was the first company to move into the newly developed Kingsway Business Park in 2007, and was later acquired by Nottingham-based SBS. Since then its state-of-the-art diagnostics, genomics and shelf life testing services have expanded significantly.
The new contract involves testing oral health, hair and skincare products for degradation over time. SBS is an international business that also provides a pathology service to the NHS and other healthcare providers, an overnight DNA sequencing service for healthcare, veterinary and research clients, and a stability storage facility for drugs and organic material to test shelf life. It manufactures saline and other solutions for healthcare use.
SBS is also involved in the high-tech manufacture of controlled environment equipment, and this is another area it is looking to expand in Rochdale.
"We have developed the next generation of equipment, and the equipment side is where we are spending the majority of our time and money," says Russell. "That means we will be able to employ more manufacturing people locally. There is a very good manufacturing heritage in this area…that's very important for us."
SBS is one of an increasingly large number of high tech and advanced manufacturing businesses to call Rochdale home.
Commenting on the company's ambitious plans for its Rochdale facility, Tony Lloyd MP said: "It's wonderful to see a state-of-the art technology business like Source BioScience thriving in Rochdale and sharing ambitious plans for growth. But it certainly isn't the only one.
"As Russell said, the area has a rich heritage in advanced manufacturing and that means innovative businesses can employ the staff they need, supported by our excellent FE colleges.
"Alongside superb transport links, that makes Rochdale an attractive area for companies in this exciting sector."
Go Back